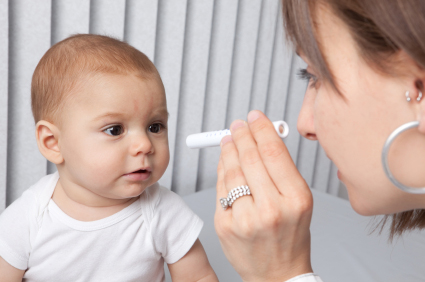 A recent post on the Facebook group, Vision Therapy Parents Unite, was looking for info on what to expect from a pediatric optometrist's assessment of an infant's vision.
An evaluation at an early age (under 2 years) may look like a play session, but in the course of playing games, the doctor is making careful observations.  
Your Pediatric Optometrist should be able to answer the following questions from his/ her assessment:
1.Eyesight:
How well can the child see? With each eyes? Both eyes? Does eyesight seem about equal between the eyes? (May not have a grade like 20/something, just a gross sense of vision potential with infants.)
2. Eye Power:
Is the child farsighted, nearsighted, astigmatic? Are the eye powers about equal? 
3. Binocularity:
Do the eyes coordinate as a team? Some of the time? All of the time? At a certain distance?
4. Ocular motility:
Can the eyes move in all directions? Is there a limitation in any gaze? Either/ both eyes?
5. Peripheral vision:
Is the child alert/ responsive to off-center targets (peripheral vision)?
6. Visual-Motor Development:
Is the child using vision to guide reaching and grasping? (Age appropriate?)
7. Ocular Health:
Are my child's eyes healthy/ no apparent pathology?
And the home run question:
8. Guidance: 
What can I do to guide my child's vision development at home?
If your doctor can debrief you with answers to all of these questions, your child is in good hands!

Dr. Slotnick proudly supports the InfantSEE program of the American Optometric Association (AOA), providing infant vision assessments to infants under one year of age.